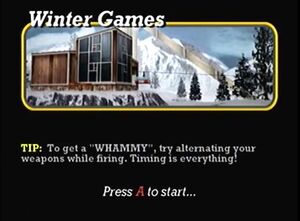 The
Winter Games
is a stage that made its debut in
Vigilante 8: 2nd Offense
. Located in Northern Utah and Southern Idaho, the Winter Games is a ski resort complete with a gondola station and ski lodge. There are no known hazards in the stage other than the hooks that can drag you along a straight-forward path near the middle of the stage, but is seen as more of an annoyance than a threat. Other structures include a giant ramp, a down-hill raceing track, miniature flags organized in a straight path (all of these necessary for completing specific objectives in
Quest Mode
), and a victory podium.
The gondola stations are accessible, and entering the stations while the ski-lift is inside will enguld the player inside the ski-lift and carry them up or down a straight path, possibly rewarding them with a Special Weapon Crate or Wrench.
Completing the competitions in the stage will reward the player with an assortment of weapons, Special Weapon Crates, and Wrenches, located on the victory podium.
The Winter Games stage looks oddly similar to the Colorado stage in the original Vigilante 8.
Ad blocker interference detected!
Wikia is a free-to-use site that makes money from advertising. We have a modified experience for viewers using ad blockers

Wikia is not accessible if you've made further modifications. Remove the custom ad blocker rule(s) and the page will load as expected.