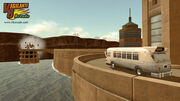 Hoover Dam (Arcade) is a stage that appears in Vigilante 8: Arcade, which is an updated version of the Hoover Dam stage in the original Vigilante 8. The Hoover Dam is a dam located in between Arizona and Nevada. Structures within the stage include electric fences and strips, communication buildings, pipe tunnels and the dam itself. Hazards within the stage include the electric strips located in between the ground and top surfaces of the stage, which shoots the player off the strip while causing gradual damage for as long as the player remains on the strip. Other hazards include unstable water pipes, which shoot the player upwards, causing minimal damage, and others located within tunnels that erupt whenever it makes contact with a vehicle.
Located near each unstable water pipe in the tunnels is a Special Weapon Crate.
Near the spawning point of the stage is an opening in a building that transports the player to the ground section of the dam.
Of the twenty Alien Artifacts located within the stage, most can be found by destroying fence lines along the road.
Ad blocker interference detected!
Wikia is a free-to-use site that makes money from advertising. We have a modified experience for viewers using ad blockers

Wikia is not accessible if you've made further modifications. Remove the custom ad blocker rule(s) and the page will load as expected.