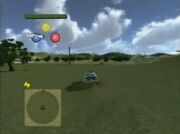 Farmland
is a stage that makes an appearance in
Vigilante 8: Arcade
, and is an updated version of the Valley Farms stage in the original
Vigilante 8
. Farmland is set in a field of various farm equipment and structures. Certain structures in the stage include a barn, orchards, windmills, erosion pipes and plantation storage units. Hazards within the stage include planes and automatic field sprayers that release a sort of powder that stalls the player's vehicle.
If the barn within the stage is destroyed, it will reveal a Wrench within the barn, as well as a ramp that the player can use to boost into the air to grab a Special Weapon Crate.
The plane that stalls the player's vehicle can be destroyed with precise aim from the Mortar.
Most plantation storage units within the level have Wrenches in them.
Of the twenty Alien Artifacts hidden within the level, most of them can be found within the trees in the orchards.
Ad blocker interference detected!
Wikia is a free-to-use site that makes money from advertising. We have a modified experience for viewers using ad blockers

Wikia is not accessible if you've made further modifications. Remove the custom ad blocker rule(s) and the page will load as expected.