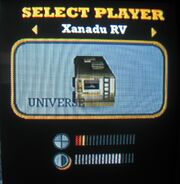 The
Custom
Paint
option is an added feature to the character select that made its debut in
Vigilante 8: 2nd Offense
. With Custom Paint, a player can change the color and brightness of an individual character's vehicle and can remain that way as long as you have a savable output. Changing the color scheme of a vehicle serves no purpose but to display and add a creative twist to the game.
Vigilante 8: ArcadeEdit
In Vigilante 8: Arcade, Custom Paint makes a return, except with more limited options. Each character has a preset assortment of colors the player can choose from, ranging from white, black, gray, orange, purple, red, green, yellow, blue, and different shades of each of the listed colors.
Colors available for Custom Paint include red, orange, yellow, green, blue, purple, pink, and different hues in between that order. The player can also make the vehicle very bright or very dark and combine it with the color to make a completely new appearance.
Ad blocker interference detected!
Wikia is a free-to-use site that makes money from advertising. We have a modified experience for viewers using ad blockers

Wikia is not accessible if you've made further modifications. Remove the custom ad blocker rule(s) and the page will load as expected.