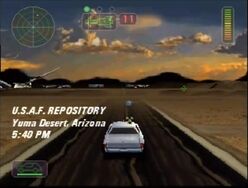 The
Aircraft Graveyard
is a stage that made its debut in
Vigilante 8
. As its name suggests, the stage sets place in a barren part of the Yuma Desert located in Arizona in which numerous pieces of failed aircrafts are compiled in a giant heap across the area. Aside from the assembled parts, other structures in the stage include hangars that carry
Random Weapon Crates
, a giant runway, and a control tower for oncoming flights. Despite the name, fully functional aircrafts occasionally appear during active play in the stage, which counts as a hazard, respectively. Other hazards include planes that drop bombs if secret areas are accessed and cranes holding a weight that smashes when you pass under it.
Upon destroying oncoming planes when they land on the runway, the player will be rewarded with various amounts of Weapons for their vehicle.
There are two secret areas, each containing one Special Weapon Crate, one Random Weapon Crate, two Wrenches and Power-Ups.
Passing in front of the control tower when the radar is rotating and turning green the red light, will cause a plane to drop bombs and cause some damage to the selected enemy.
Ad blocker interference detected!
Wikia is a free-to-use site that makes money from advertising. We have a modified experience for viewers using ad blockers

Wikia is not accessible if you've made further modifications. Remove the custom ad blocker rule(s) and the page will load as expected.